About clinic
conception of our clinic
Doctor Merker's Clinic - is an association of private medical practicing doctors of high qualification with long practical experience. Each expert is the professional in his sphere: plastic surgery, surgery of a brush, cosmetology, psychiatry and psychotherapy. The clinic's concept concludes - granting of medical aid with the highest degree of responsibility and guaranteeing safety to the patient. The individual approach to a problem is a basis of teamwork of the doctor and the patient. Our purpose is: at first granting of consultation and a real estimation of Your expectations and only then we choose the way of their realization.
Doctor Merker's Clinic is the oldest private clinic in Tomsk of such specialization and within 17th years, we assist patients in questions of plastic surgery and cosmetology. Clinic's atmosphere, goodwill and competence of the personnel will make your stay comfortable and pleasant.
SPECIALIZATION:
Specializations of Doctor Merker's Clinik is a wide area of plastic and esthetic surgery, reconstructively-regenerative surgery, medical cosmetology, psychiatry and psychotherapy.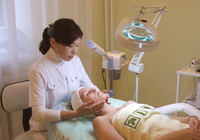 PARTNERS:
The Siberian State Medical University. (www.ssmu.ru)
INVITRO Clinic, laboratory of diagnostics
Companies "Mentor", «McGhan Medical», «Paul Hartmann» issuing high-quality medical and dressings.
The companies «ERICSON LABORATOIRE» «Christina», Holy Land, Academie are manufacturers of professional cosmetics
ACCOMPANYING OFFERS:
Credit programs through the authorized banks.
Granting payment by installments
Bonus programs